We all know Texas has some brutal, hot summers. The heat can make it difficult to keep your lawn looking healthy and green. Whether you're a first-time homeowner in the state of Texas or looking to spruce up your lawn maintenance routine. This guide will help you grow and maintain a beautiful green lawn all summer long.
Fertilize Your Lawn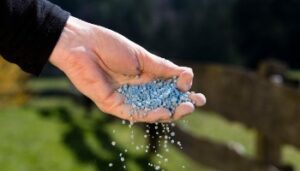 Fertilizing your lawn is critical in the summertime. The hot temperatures and dryness of the Texas heat can turn grass dry and patchy. A properly fertilized lawn is a great way to replenish nutrients that help to grow thick grass. Thick grass handles the heat better by keeping the soil cool. 
Your first application of fertilizer should be made after the second or third mowing in the spring. After that continue with applications throughout the summer. The time interval between applications will depend on the nutrients in your soil. This can be determined by a soil test. Texas A&M suggests using organic or slow-release nitrogen sources on Texas lawns during the summer. 
Replace or Reseed Older Grass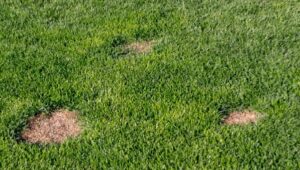 Grass that is patchy or dead usually needs to be reseeded or replaced. Damaged or dead grass can be easily spotted during summer. If you regularly fertilize and water your lawn, try reseeding or replacing dry patches. 
Water Your Lawn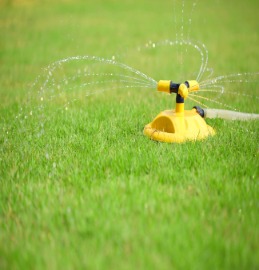 The best way to help build a strong, deep root system is to water it enough for the water to be absorbed deep into the soil. The deeper the water is absorbed, the deeper the roots will grow. A deep root system results in that beautiful, luscious grass lawn you've been aiming for. Long grass needs more water to survive. The hot Texas heat causes lawns to need more water than any other season. It is best to water early in the morning when it's cool outside. The water will soak into the soil quicker, instead of evaporating from the heat
Pest and Insect Control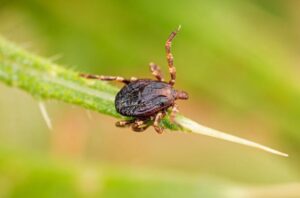 Summer is the best time to hang out in your backyard with your friends and family. Pesky bugs can interrupt the fun and lead to itchy welch marks that last for days. Early summer is when many beetles and other insects lay their eggs in the grass. When they hatch, they turn into grubs that eat your grass. Keep out grubs, mosquitos, fire ants, and other bugs found in Austin, TX by contacting a lawn pest control service in the Austin area or do it yourself.
The Length Of Your Grass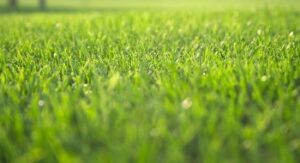 Adjust your mower to cut your grass taller during the summer months. Keep the grass roughly about 1 ¾ inches to 1 ½ inch for most grass types. This allows deeper root growth and coverage from the sun. Keep in mind that letting your grass get too long can be damaging as well. You shouldn't remove more than ⅓ of the grass blade height when mowing. It's understandable to be confused or frustrated by the different measurements suggested to keep your grass healthy. That is why weekly or biweekly scheduled mowing services in the Austin area come in handy. We handle the technical work and labor including edging, debris blowing, and raking. So you can rest easy away from the summer heat knowing your lawn is being well taken care of. 
What If I Need Help?
That's what we're here for! Ranchers Landscaping offers full lawn and landscape maintenance services. We help your lawn grow and thrive throughout the summer months. Ranchers handle everything from standard weekly and biweekly mowing plans to custom fertilization, weed, and pest control plans. Enjoy your summer this year and contact us for your quote today!